Performance Exhausts

The fitting of an expansion or performance type exhaust normally requires re jetting your carburettor, you should ask the supplier for details for your exact specification of scooter and what is required. Expansions are again one of those things that different tuners will beg to differ in design and performance characteristics. The way the exhaust works is all in the design and the lengths of the chambers that make up the expansion. Exhausts and the way the work can differ dependant on the application you are fitting it to, one exhausts that works on a certain cc, cylinder or tune, may not work at all on a different set up.

In very very basic layman's terms, if you make power low down you will loose some top end power, if you make good top end power, low down power can be lost. Each exhaust will only be able to perform with the cylinder it is fitted to and the type of tune it has had. For example if you take a wildly tuned TS1 tuned to make power very high up the rev range, you would seriously affect the performance of both the kit and the exhaust by fitting an exhaust that was made to make power low down.
The explanations of the exhausts below are an over view of how they perform in general. We have tried to catagorise these exhausts into low, mid and high. This is how and where they make their power, in general low revving exhausts are good for touring, and as such will pull taller gearing. Mid range exhaust tend to make their best power in the middle of the rev range, and of course high exhuasts make their powering by allowing the engine to rev a lot higher to gain their power. All this can affect how your engine performs, and certainly what gearing your scooter can pull to achieve its best speed.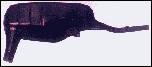 Big Bore
Makes power low down.
Finish, painted
Approx cost £40
Makes power low down. Basically these are a copy of the AF clubman, and are made in India. Looks are that of a standard Innocenti silencer, performance wise they work slightly better then the standard Innocenti box. One thing to bear in mind is that there are many manufacturers of these copy exhausts, most are quite poor in their quality, but can represent a very cheap way of obtaining a little extra performance. Almost all of these exhausts I have seen come finished in a poor quality black paint, which can quickly fall off. Unless your on a budget, there are much better eways to improved the performance of your scooter!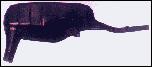 AF Clubman
Makes power low down.
Finish, painted
Approx cost £60
The AF clubman exhaust retains the standard looks of a Series 2 exhaust, except for a flared tail pipe. This exhaust proves popular with many Lambretta riders, as not only does it retain standard looks, it is pretty good for touring and long runs, making its peak power quite low, and revs out at about 6000rpm. Both manifold types available, both standard and TS1 although the latter is normally made to order. One point to note is that the clubman can be quite a noisey exhaust (depending on what you consider noisey) due to the way it is manufactured. Quality on the whole is good, and this is probably the cheapest method to add some extra bhp to your scooter. A wide range of colours are available with the AF clubman available in Red, White, Blue, Orange, Silver and Black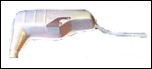 Ancillotti
Makes power low down.
Finish, painted
Approx cost £100+
Originally the Ancillotti was made from a standard Innocenti exhaust, cut apart and reworked to allow the standard exhaust to be more efficent. This type of exhaust is now only available as a re made item, from a couple of people who reproduce it. The production of this is exhaust is not always constant, so whilst it is a good option if you can find one, because of the supply problems, it may be hard to find.
Taffspeed
Makes power low down.
Finish, painted
Approx cost £260
Made and sold by Taffspeed :- Makes power low down, very good for touring and long runs because of the low down power, does not make any power high up the rev range. Both manifold types available. Must be given protective coating, or purchased as chrome plated at additional cost.
JL3
Makes power low down
Finish, painted
Approx £200
Made and sold by Jim Lomas the JL is known as a KRP3, and is based on a copy of the taffspeed exhaust. The performance is very similar to the Taffspeed, although it makes slightly more power. The exhaust comes with two stub manifolds to fit all types of cylinder, and is painted in a black finish.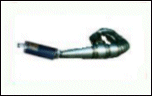 PM Tuning
Makes power mid range.
Finish, bare metal
Approx cost £200+
Made and sold by PM Tuning :- Good power spread, mainly in mid to upper range but does have an amount of lower depending on engine. Both manifold types available. The PM is available with a wide choice of end cans types and colours, must be given protective coating, no chrome option from supplier. PM tuning now have a stainless steel exhaust one the market. PM tell us in their own words, while customers demanded a stainless steel product, in fact when an exhaust is made in stainless steel single sheet, performance can be restricted due to the way stainless handles the sonic waves and exhaust makes. These new SS exhausts are believed to be cheaper then existing models due to this.
ScootRS
Makes power mid range.
Finish, choice
Approx cost £110 + import duty
Made and sold by ScootRS :- The Scootrs pipe is pretty much thought to be a copy of the PM tuning pipe, although with a alightly lower power band. Standard and stainless steel options are available, power is not to different from the PM pipe it is based on. Comes rubber mounted
Dev-Tour
Makes power mid range.
Finish, stainless
Approx cost £290
Makes power mid range. Made and sold by MB Developments :- After years of making probably one of the best exhausts on the market, MB developments exhausts are now made to their specification by Scorpion. As with the Scorpoins, early examples of both exhausts were known to crack and break, but MB and Scorpoin appear to have the build quality much better now. Power is made in mid range, with a good overall spread of power, although it makes its best power by being fitted to higher levels of tuning such as TS1 kits etc. Although more money then a Scorpoin, this exhaust delivers more power, and is also made from stainless steel.
Fresco
Makes power unknown?
Finish, painted
Approx cost £150
Believed to be made in the Far East, although they are sold through AF Rayspeed The original Fresco in the 1980's was made from two sections, but this newer remade version features a bolt on tail box silencer. Quite new to the market, power and where it is made is unknown. Believed to only come in cast manifolds, but no doubt we are wrong on this.
JL Race
Makes power mid to high.
Finish, bare metal
Approx cost £200
Made by Jim Lomas :- Makes power mid range to high, this exhaust in most tests comes out very strong in terms of its all round performance. The exhaust like the road version comes in three sections, both manifold types are supplied with the exhaust. The exhaust comes in bare metal and needs paint or other protection. cost.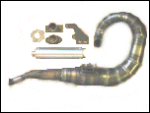 NK
Makes power high revs.
Finish, bare metal
Approx cost £175
Made and sold by AF Rayspeed :- although they make their power quite a bit higher up the rev range, which is good for ultimate speed but not always good for touring. You need to keep the gearing lower, and increased rpm can increase engine wear. Both manifold types available, and a new version is available for smaller cc machines, including the Imola kit. Must be given protective coating, no chrome option from supplier.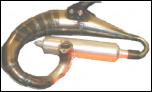 Imola Snail
Makes power high revs.
Finish, lacquerd
Approx cost £175
Made and sold by Imola (although there are agents in the UK):- The pictures shows the old Mark one version, which although no longer produced by Imola, has found its way back onto the market through some suppliers. These early examples suffered from cracking and a poor design of retaining the muffler. The newer mark 2 version was made by a different manufacturer and appears to have overcome the buid quality issues of the first version. The Imola expansion is a lot smoother in terms of the way it is made with less welds. Power is made at the top of the rev range in a similar way to the NK, and can allow an engine to rev as hard as you want it to. As with all higher revving exhausts, although peak power that can be made is in most cases higher, you will need to run low gearing to take advantage of this, and of course the higher increased RPM can increase engine wear.

JahSpeed
Makes power unknown?
Finish, choice
From £220
Made and sold by JahSpeed :- Unfortunately we have not had many reports in the forums for JahSpeed exhausts, but having checked their web site Jahspeed make their exhaust fully blown. This means that a solid form of material is used, heat, and forced into shape by pressure. This makes their exhuasts one piece, of course apart from the manifold and end can. They manily produce exhausts to order, and can specialise in making one offs for custom fitment, but also have standard items in stock. Both manifold types available. Unsure of finish and protection required. Please assist us all if you have one of these and send in a report of what you think and how it performs.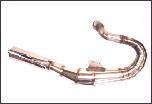 Scorpion
Makes power mid to high
Finish, stainless
Approx £200
Makes power mid to high.Made in the UK and sold by a number of different agents :- Early versions were not unknown to crack and break, although it is now thought the quality on these is better. Initial reports from the technical help pages state that while in general customers seem to be happy with them, there is some question over how well these exhausts fit. A recent report in Scootering magazine praised the exhaust for power and fitment, yet customers with the exhausts seem to have a different opinion? This exhausts performs better on more standard levels of tuning then it will on high level of tuning such as TS1 kits etc. The Scorpoin is made from Stainless Steel and does not require protection.
KRP
Makes power mid to high
Finish, stainless
Approx £200
Made and sold by Kegra :- Both manifold types available. Please assist us all if you have one of these and send in a report of what you think and how it performs