Lambretta Mopeds

Click HERE to view the PDF of the Production Facts & Figures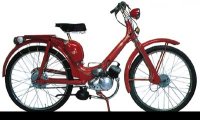 The first moped introduced by Lambretta was the 48 II, which was launched in January 1959. The single beam cradle type frame was light and rigid, and held a 47.75cc engine. Whilst not being powerful at 1.7bhp the two speed gearbox made the 48 capable of 31mph. A small fuel tank built into the frame, air filter also housed within the frame and a single seat gave this small Lambretta the rider the basic needs. The 48 could be used as a conventional bicycle by disengaging the pedal drive. A small tool box was fitted underneath the rear rack, and the 48 came complete with a pump for the tyres.

The 48 II was replaced in 1966 by the Lambrettino, which saw the smallest engine Lambretta produced at just 39cc. Many plastic parts were used, including engine covers, headlight, and petrol tank Two speed, fully automatic, this model even featured a lever which reduced exhaust compression by moving the exhaust valve, for ease of starting. Chain driven, but not enclosed as per usual Lambretta engines, and so Innocenti encased it by means of a chain guard, spoked wheels with trailing links were other features of the 'Lambrettiono' as the model was known. The Lambrettino was a very spartan town bike, such were the models bare essentials that rear suspension was void, but instead the single seat was sprung for rider comfort.

The last model in the moped range was the Lambrettino SX, this came with a larger 49cc engine. The SX model also gained a form of CVT, constant variable transmission. The CVT utilised 2 pulleys that varied in diameter, these were attached by a rubber trapezoid belt. The diameter of the pulley varied according to the speed of the wheel. Drive was then taken to the rear wheel was by means of two chains. The SX was very similar to the standard Lambrettino in terms of looks and equipment. Plastic panels, no rear suspension apart from the riders seat all saw a basic model that was cheap and easy to use.