German Lambretta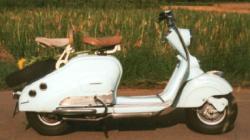 The NSU Lambretta started life in 1950's, being made under license in Neckarsulm, and between then and the time the production stopped in 1957, some 189,000 examples were turned out of the factory. Based on the 125cc engine unit, early example were as Innocenti had designed, but soon the NSU works modified the scooters with there own "extras".
The first model to receive this treatment was the NSU Luxury Lambretta, which gained two tone paint, highly polished bits of ally on the rear side panels (supposed to protect the side panels), a front bumper bar, and a parking light that could be switched on directly on the "motor scooter dashboard".

NSU carried out studies of there owners, and tried to convince manual workers that the NSU was not just a "rich daughters" or "white collar worker" mode of transport. The PR department regularly brought out statements relating to the NSU as car like in its controls and creature comforts, in an effort to push up sales.

August 1954 saw a new "worked on" (by Neckarsulm) engine of 150cc displacement, with the improved hp of 6.2ps, not just available at high revs, but across the range. The new engine could manage, two up journeys in first gear of inclines up to 31.5%, which made it manage most of the pass's in he Alps.

The NSU Lambretta's name switched to NSU Prima in 1956, for no other reason then the license with Innocenti expired, this was due to Innocenti's strict control on export (NSU were the first to export Lambretta to the USA!). Production of the NSU ceased in 1957, as the NSU works supposedly got bored with scooters and switched slowly to other four wheeled products. Perhaps it was the lack of factory support that persuaded the Germans to switch!